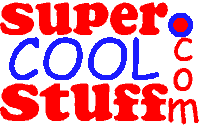 Your complete source for toys, games, novelties, carnival prizes, and fundraiser supplies. Over 1000 products are in stock and ready to ship.
Important - Warning and Details About Phthalates - Click Here
Supercoolstuff.com is a division of Southeastern Skate Supply. We're a legit company that has been in business since 1954 with a real warehouse and real inventory. With over 1000 products in stock we can get you the product you need quickly and efficiently.
New - $20 minimum order requirement. We hate to have to impose this, but orders smaller than this are too expensive to process. For orders going outside the USA we need to get an international dealer's app on file before shipping and the minimum is $50.
boring technical details: about our company / contact us / policies and rules / shipping info / international shipping / our other sites