Southeastern Skate Supply was started in 1949 as a roller skating rink. From that starting point we began evolving into a supply distributor for other local skating rinks. By 1954 we were selling enough skates to buy a work bench and hire our first employee that wasn't related to our founder, E.W. Ramsey.
Today we are the largest skate distributor in the country. In 1997 we started distributing toys and novelties to the skating rinks. Redemption centers have become a major source of income for many rinks over the past several years, and we felt that we could better serve our customers by offering the items they need. Most novelty items are inexpensive, and it is the perfect impulse buy for young skaters.
With offices in Roanoke, VA and Mableton, GA and over 1000 items in stock we can help you make money. Browse the catalog and order some great products. For info on our skate products please check out our skating web site.
Here are some pics of our warehouse facilities. . .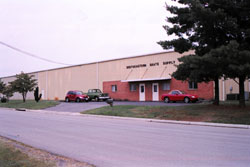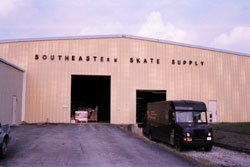 If you're still wondering if we're legit our address is 2917 Nicholas Ave. / Roanoke, VA 24012 / USA. Feel free to check us out with Dun and Bradstreet, the Roanoke Chamber of Commerce (we were a 2002 nominee for Business of the Year - Wholesale Category), or the Better Business Bureau. Each of these organizations is going to know us better by our parent company name (Southeastern Skate Supply).
map: main > about us